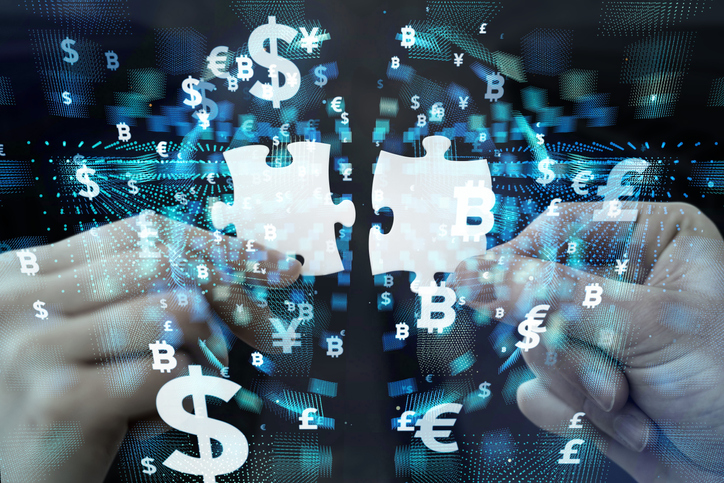 © metamorworks/iStock/Getty Images Plus
The valuations of many businesses have reached epic highs, and proposed tax reforms by the Biden administration are expected to further drive up the cost of mergers and acquisitions. But these gathering clouds are not dampening the enthusiasm of companies, or their investors, that want to expand overseas.
In fact, it's quite the opposite. The value of global M&A deals hit a record $1.5 trillion in the third quarter of 2021, numbers that have not been seen since before the financial crisis of 2007.
As the effects of the pandemic begin to recede with widespread vaccination, companies are pursuing aggressive growth strategies that are increasingly taking them over international borders. According to Dirk Albersmeier, global co-head of M&A at JPMorgan, international M&A is largely a pursuit that hinges on confidence.
Many companies are confident they have the resources and the solid roadmap that will help with overseas expansion. But how confident are their HR and accounting teams in their ability to navigate the legal, regulatory, tax, benefits administration, hiring and payroll challenges that differ country by country?
Understanding these challenges, and taking steps to address them, is the key to building confidence and expanding overseas without getting snared in red tape or falling afoul of local laws, government policies and regulations.
Navigating Global M&A
Most countries have their own city, regional and national regulators who impose statutory or regulatory filing requirements, which means setting up shop in a foreign jurisdiction while remaining legally compliant can be complex.
Tax structures and benefits administration also vary from one country to another, as do the requirements for opening bank accounts. Payroll is another obstacle course, as HR and accounting must figure out which country to bill from—the home country or overseas office—in what currency, and who bills whom. These considerations change depending on which countries a business wants to operate in, and what their reasons are for doing business there.
Added to these legal and compliance regulations are the cultural norms and expectations surrounding holidays, time off, and promotions, all of which differ by country (and even by specific regions within a country).
Just a quick overview of the challenges is enough to erode the confidence of many HR and accounting teams when it comes to overseas expansion. Fortunately, there are partners and technologies they can leverage to take friction and complexity out of the process.
The Early Stages
HR and finance departments are expected to take part in international M&A from the earliest phases of the deal, which includes the initial decision a company makes on what kind of entity to set up overseas.
Opening new offices in other countries is the best path for some companies, while others choose a representative office, a subsidiary, a joint venture or a partnership. Some companies forego these structures and simply hire individuals or teams based outside the U.S.
HR teams also must understand the particulars of onboarding based on an employee's job description and his or her location, as these elements largely determine the employment law, compliance, contracts and other considerations that must be set up properly before onboarding can even begin.
Many HR directors navigate these issues by buying reports that can help a company learn the ins and outs of benefits administration and other issues in international hiring. But these reports cost upward of $10,000 per country, and the help they offer stops where the book ends. However, the guidance the HR department needs is certain to continue.
Where Modern Companies Find Real Help
It's obvious why HR and finance teams often decide the regulatory and legal considerations with international M&A are too daunting to tackle without help. Getting help from the right partners and technologies doesn't just boost confidence – it can mean the difference between success and failure.
Many companies partner with a Professional Employer Organization (PEO) that has a presence in countries around the world to help with establishing an entity, hiring, onboarding, benefits administration, compliance and other issues. PEOs—who have a boots-on-the-ground presence in countries around the world—offer more guidance than reports, considering some of these organizations have a presence in more than 100 countries.
There are also new technologies that were designed to help with international expansion, including second-tier HR software systems that can reduce many of the complexities related to onboarding and benefits administration. Second-tier systems manage every aspect of HR—including benefits administration—and some of these systems even have a global focus.
Leveraging the right partners and the right technologies has never been as important as it is now, because the pace of international M&A is not expected to slow down anytime soon. The worker shortage in the U.S., combined with the "work from anywhere" trend that the pandemic brought, will only add fuel to the fire.
Overseas expansion is a game that requires confidence, and there's no better way to build confidence than accessing the right tools and the right partners to make sure that a difficult, complex task is done right.
Adam Sheffield is the Chief Revenue Officer at Global Upside Corporation.